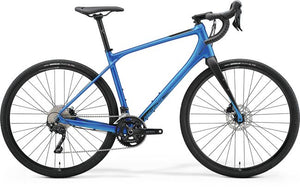 MERIDA SILEX 400
Star buy - matching the high-quality aluminium frame and highly acclaimed gravel specific Shimano GRX400 2 x 10 groupset and hydraulic disc brakes.
The Silex was a ground up design project. Rather than taking a road or cyclocross bike and re-jigging the recipe, the starting point for the Silex was modern MTB inspired geometry; long top and head tubes and a short stem, offering nimble, confidence-inspiring handling.

At launch, it was hailed as the most comfortable and versatile bike we had ever made. The cycling press loved it too: "exceptional ride quality" (Cycling Plus), "a highly versatile bike" (IMB), "the best bike of this genre" (Offroad CC).

There's a certain beauty in just riding without watching the time, heading wherever you feel the urge. For those rides, the test and award-winning Silex makes total sense.

The bike has five sets of bottle bosses and rack mounting points offering multiple luggage carrying options.

All Silex models are equipped with powerful hydraulic disc brakes. Calipers are mounted on the chainstay for better dissipation of braking forces using the flat-mount standard for a neat, flush fit. Calipers sit on top of CNCd aluminium Disc Cooler fins, reducing operating temperatures by up to 35%; particularly important when running fully loaded.
MTB Inspired gravel geometry
Carbon fork with tapered steerer
Shimano GRX400 groupset
Hydraulic disc brakes
12mm bolt through axles
CRANK
170 mm-XS/S, 172,5 mm-M, 175 mm-L/XL
BOTTOM BRACKET
Shimano Pressfit BB71
FRONT DERAILLEUR
Shimano GRX400
REAR DERAILLEUR
Shimano GRX400
BRAKE LEVER
Shimano GRX400
STEM SIZE
80 mm all sizes
| | | | | |
| --- | --- | --- | --- | --- |
| FRAME SIZE | S | M | L | XL |
| TYRE SIZES | 28" | 28" | 28" | 28" |
| ST SEAT TUBES MM | 470 | 500 | 530 | 560 |
| TT TOP TUBES MM | 554 | 579 | 600 | 620 |
| CS CHAIN STAYS MM | 430 | 430 | 430 | 430 |
| HTA HEAD TUBE ANGLE [°] | 71 | 71 | 71 | 71 |
| STA SEAT TUBE ANGLE [°] | 74 | 74 | 74 | 74 |
| BD BOTTOM BRACKET DROPS MM | 75 | 75 | 75 | 75 |
| HT HEAD TUBE LENGTHS MM | 180 | 200 | 220 | 240 |
| FL FORK LENGTHS MM | 397 | 397 | 397 | 397 |
| R REACH MM | 380 | 400 | 415 | 430 |
| S STACKS MM | 606 | 625 | 644 | 663 |
| WB WHEEL BASE MM | 1034 | 1060 | 1082 | 1103 |
| SH STAND OVER HEIGHT MM | 744 | 772 | 799 | 826 |